Hike to the spectacular Quilotao Lagoon on a full-day, guided hiking trip from Quito that includes transport, a market visit, and lunch at a local restaurant. You'll encounter vibrant Andean cultures, trek into a collapsed volcanic caldera, and visit a mountain village known for traditional artwork. This small-group tour is limited to 12 people for personal service from the guides.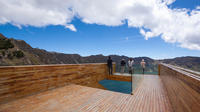 Meet a guide and a group of hikers at a central location in Quito, arriving at 6:45 with warm and weatherproof clothing for a 7am departure. Leave the city on the Pan-American Highway, stopping in Latacunga City on your way to the Andean village of Quilotoa.

You'll get a firsthand experience of the Andes' indigenous culture at a local market—depending on the day, you'll visit a Saquisil, Pujili, or Zimbahua market—then continue to the town of Zimbahua to start the hike, a total of 103 miles (166 km) from Quito. Descend towards the edge of the Quilotoa Lagoon, which has pooled in the crater of a collapsed volcano, and enjoy views across the dramatic mountain landscape.

Most visitors make the hike from the viewing platform to the water in 30 minutes, and the uphill hike in 1 to 2 hours, climbing 919 feet (280 meters) along the way. If desired, you may hire a mule or horse for the return trip, making only the hike to the lake on foot.

Refuel with a hearty lunch at a local restaurant, then visit the town of Tigua, a community known for paintings made with chicken feather brushes on sheep hide canvases, depicting scenes of mountain life and culture. In the late afternoon, begin the return trip to Quito, where this tour concludes with drop-off at the original departure point.

Please Note: Quilotoa is located at 12,467 feet (3,800 meters), so guests should plan to allow at least one day to acclimatize in Ecuador before booking this trip.