Discover the rich culture and history of Old Town Quito on this 6-hour guided walking tour. Hear the stories and legends behind the Ecuadorian capital's most iconic landmarks that you visit, including Independence Plaza, Government Palace, the Independence Monument and the Archbishop's palace. On this tour, you don't just sightsee — try your hand at Quito-style wood carving and making traditional chocolate. What better way to top off this fantastic day than to stop at an old-school ice cream shop and sample delightful flavors.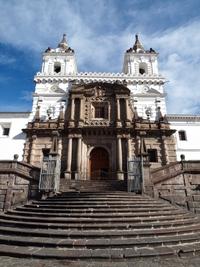 Step out on a guided walking tour of Old Town Quito and experience the sights, smells and flavors of this sky-high capital as the day comes to life. Begin your 4-hour adventure on the cobblestone streets of Old Town where you'll meet your informative guide.

Kick off your sightseeing at Independence Plaza, home to the Independence Monument, Government Palace and the Archbishop's Palace. Travel through energetic crowds as your guide unlocks the history of this central Quito stop.

Swing by La Compañía de Jesús, a Jesuit church boasting an elaborate façade made entirely out of volcanic stone, and an interior rich in gold leaf. Visit the University of San Gregorio and make your way to La Ronda, one of the most picturesque streets in Old Quito.

Then, meet local artisans who specialize in Quito-style wood carving, ask questions about their craft and try your hand at carving something yourself!

Switch to culinary delights as you learn how to make chocolate, in the traditional Ecuadorian-style. You get to sample some varieties, of course, before moving on to a popular ice cream shop in Old Town that's been around for years. Follow your guide's recommendations and try flavors that you're not likely to find back home — like morocho corn ice cream and quinoa.

After this sweet note, your tour ends back at the departure point.