Discover Iceland's breathtaking landscapes on this 10-hour Golden Circle tour and white-water rafting experience from Reykjavik. Travel by 4x4 into rural Iceland and explore the famous Golden Circle route. Hop into your raft and challenge yourself against the Hvítá River's powerful current. After lunch and a warm sauna, head into the geothermal Haukadalur Valley where mighty geysers blast hot steam high into the air. Discover the beautiful Gulfoss Waterfall, then delve into the UNESCO–listed Thingvellir National Park — famous for its dramatic rock formations and rolling plains.
Why Our Insiders Chose This Tour
This is a fantastic trip for any adrenaline junkie! Experience the great Icelandic outdoors, enjoying river rafting as well as spectacular scenery.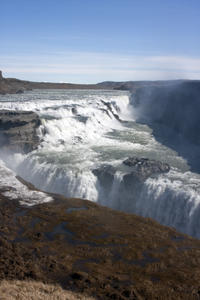 Leave your Reykjavik hotel by luxury 4x4 vehicle and set off to discover the delights of the Golden Circle, a 186-mile (300-km) scenic loop that circles the countryside around the capital city. Your first stop on the route is at Drumbo, a rafting base camp on the banks of Hvítá River. Get changed (waterproof clothing provided), listen to a safety briefing, and then head out on your white-water rafting experience.

Under the watchful eye of an experienced skipper, paddle along the fast-flowing river, passing through swathes of gloriously secluded Icelandic countryside. Each raft holds up to 12 people, as well as an onboard skipper, who will help paddle and give instructions. Falling from the boat is all part of the experience, so get ready to get wet! Your skipper will give safety tips to help you resurface quickly and stay safe if (or more likely 'when') you fall into the river! Starting on a calm stretch of water, your route gradually progresses to more demanding parts of the river, culminating in larger drops and rapids toward the end.

After 1.5 hours on the water, return to Drumbo for a shower and sauna before enjoying lunch. The menu often changes, but you can expect something typically hearty like sizzling lamb and baked potatoes.

Leave the center and travel to the valley of Haukadalur, a geothermal area peppered with incredible geysers (hot springs that blast water and steam into the air). Stop for photos at Geysir, one of the area's most impressive springs, and then walk around nearby Gulfoss, a magnificent waterfall that thunders down the canyon at Hvítá River.

Travel further around the Golden Ring through Thingvellir National Park, a UNESCO World Heritage Site. Besides its dramatic landscape with countless rock formations, rivers and open plains, the park is also home to the world's longest-running parliament. Visit the spot where the North American and European continental plates are said to meet, and then travel back to Reykjavik, finishing your tour at your central hotel.