Discover one of Iceland's scenic wildernesses on this private 4x4 day Highlands and Landmannalaugar day trip from Reykjavik. Travel by 4x4 jeep into the Highlands, an area of rocky deserts, volcanoes, and peaks, and view waterfalls, craters, and lakes. Then, explore Landmannalaugar to see its multicolored mountains and bathe in hot springs before walking below the Hekla volcano. This private tour has a flexible itinerary, and includes jeep transport and hotel pickup and drop-off.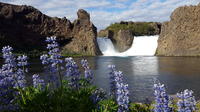 After pickup from your Reykjavik hotel, settle inside your private, air-conditioned 4x4 jeep with your guide.

Then, travel through rugged countryside to the Thjorsardalur valley, an area of birch woods, lava fields, and rushing rivers. See the beautiful, two-stepped Hjálparfoss waterfall, whose name originates from the Icelandic word for 'help' since the surrounding pastures were used by ancient travelers for grazing for their horses.

Continue into the Highlands, a region only accessible by 4x4. Trundle along gravel tracks and through rivers as you head toward Landmannalaugar, considered one of Iceland's most spectacular areas. Stop to admire the blue-green Lake Frostastaðavatn, and the high-walled Ljótipollur crater, formed in 1477 and filled with a stunning, cobalt-blue lake.

Delve deep into Landmannalaugar, a geothermal wilderness of lava fields and multihued mountains stained in a rainbow of colors by their rhyolite volcanic rock.View the pink, brown, red, green, yellow, purple, and black slopes, and break for a packed lunch (purchased previously, at own expense).

Next, choose to take a 1-hour hike through the hills, or skip the hike and bathe in some natural hot springs among the lava fields. Bask in the warm waters, and If you've chosen to take the hike, take a dip after your walk. Alternatively, choose to explore the area on foot independently.

Then, drive through the lava fields and mountains of the Dómadalur area, and see the Thjofafoss waterfall. Learn how 'thjofafoss' means thieves, and is derived from the thieves who were tied up and thrown into the falls by the ancient Vikings.

Finally, take a walk in the lava hills by the Hekla volcano. Known as the 'Gateway of Hell,' Hekla last erupted in 2000, and is Iceland's most active volcano.

Your tour then ends with a hotel drop-off in Reykjavik.