See the best of Southern Iceland on a 5-hour helicopter tour from Reykjavik that explores rugged coastlines, volcanoes and ice fields. Touch down at the Jökulsárlón glacial lagoon, where seals and icebergs swim in the frigid, blue water. Fly above the stark landscape of Vatnajökull National Park, swoop past Iceland's highest peak and see the iconic springs, falls and canyons of the 'golden circle.' Choose two additional landing spots; spot a steamy geyser, take a walk over the craggy terrain or enjoy your picnic lunch on Fimmvorouhals Pass.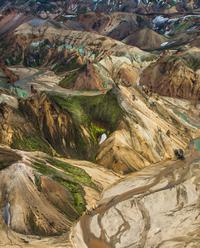 Make your own way to Reykjavik Domestic Airport in time for your flight, and then listen to a quick safety briefing before following your pilot into your helicopter. Take a seat next to your pilot or in the row of seats to the rear, and then soar into the skies above Reykjavik.

Watch the busy urban sights of the city fade from your view, and then turn your attention to the raw beauty of the Icelandic landscape stretched out around you. Your route starts in a southeast direction, heading along the country's wild and windswept south coast. Boasting some of Iceland's most fascinating lava fields and black-sand beaches, the coastal area is also home to the famous Eyjafjallajökull volcano and glacier as well as some eye-catching waterfalls.

Continue admiring the scenery as you fly toward the glacier lagoon at Jökulsárlón, and then touch down to enjoy roughly 30-45 minutes of free time. Perhaps take a boat ride on the vast glacier lake at your own expense, or use your time to explore on foot, seeing the lagoon's icebergs and seals.

Return to your helicopter and fly west over the sweeping plains of Vatnajökull National Park, past Hvannadalshnúkur (Iceland's highest peak), to the gloriously remote Fjallabak nature reserve. Peer down at the highland lakes and ice-braided rivers that few visitors see, and pass alongside the mist-shrouded mountains that rise steeply from the landscape's volcanic depths.

From Fjallabak, soar around the colorful mountain ranges that permeate Landmannalaugar — a hotbed of geothermal activity — and see some of the big-name Golden Circle sights such as Thingvellir National Park, Geysir hot springs and Gulfoss, a waterfall in the Hvítá River canyon. Ogle lesser-known yet equally impressive sights such as Hekla volcano and Hrafntinnusker, a 3,700-foot (1128-meter) mountain, and then loop back to Reykjavik Domestic Airport where your tour finishes.

Your flight includes three landings: the first at Jökulsárlón, and the following two at places of your choice. Your pilot will normally suggest landing on the Fimmvorouhals Pass (near Eyjafjallajökull) and one of the geothermal areas. A packed lunch is included in your tour, but where you stop to enjoy the meal is weather dependent.