Escape Rome for three days south of the city, where you'll visit Naples, Pompeii and Amalfi. You'll get to know the Campania region, home to several UNESCO World Heritage sites and known for Italian culinary favorites like spaghetti, pizza and mozzarella cheese. Learn some of Italy's long history, take in the ruins of ancient Pompeii and be wowed by the seaside scenery of the Amalfi Coast. Two nights of accommodation are included.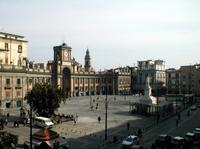 Your 3-day tour from Rome starts with a visit to Naples, a city of castles and historical landmarks that was first settled by the ancient Greeks, who named it Neapolis (new city). The city center is a World Heritage site.

Next, explore another UNESCO site, Pompeii, a once-forgotten city covered in ash from a volcanic eruption in 79 AD that was accidentally discovered about 1,700 years later. You'll then continue your tour along coastal roads to the seaside village of Amalfi, known for its colorful terraces that sit on dramatic cliffs. During your free time, wander the public plazas, enjoying the many cafes and shops, where red coral jewelry is a popular gift to take home.

Two nights of accommodation in Amalfi at your choice of a 3-star, 4-star or 4-star superior hotel (select when booking) and some meals are included; you'll have free time for other meals.
Itinerary
Day 1: Rome, Naples, Pompeii, Amalfi (L, D)
After departing Rome, drive along the "Sun Route" motorway and cross the region of Lazio into Campania. Once in Naples, enjoy a short city tour before continuing to Pompeii where lunch in a restaurant is provided. A UNESCO World Heritage site, Pompeii is one of the must-see attractions of Italy. You will visit the excavations of this world-famous Roman town, destroyed by the eruption of Mt Vesuvius in 79 AD.

Next, it's onto Amalfi for overnight stay.

Day 2: Amalfi (B, D)
Take a full day to enjoy Amalfi's breathtaking coast along its famous promenade. Make your own way up to the Cathedral, with its splendid bell tower overlooking the small town below. In the center of the Piazza del Duomo, catch a glimpse of Fontana del Popolo before walking through the old quarter, lined with its picturesque shops.

Overnight in your hotel.

Day 3: Amalfi, Pompeii, Rome (B)
After breakfast, enjoy another free morning before departing back to Rome via Pompeii.