Take a 7-night tour of southern Italy from Rome, and discover the Amalfi Coast and Campania region with a mix of guided activities and free time. The southern Italy itinerary includes a range of guided experiences such as a hike up Mt Vesuvius, a Sorrento gelato class and a tour around the UNESCO-listed digs of Pompeii. Relax with rail or coach transport, and enjoy 2- or 3-star accommodation in Sorrento, Naples, Rome and Positano or Amalfi.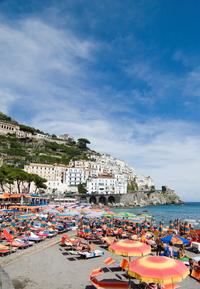 Your 7-night tour from Rome introduces you to the highlights of southern Italy's Campania and Amalfi Coast regions. While still including more free time than many other multi-day tours, your experience also includes a selection of activities including tours of the National Archeological Museum in Naples and Pompeii, a gelato-making demonstration, Mount Vesuvius hike and an Amalfi Coast walk.

Enjoy centrally located 2-3-star accommodation in guesthouses or hotels in Rome, Naples, Sorrento and either Amalfi or Positano. With the exception of four breakfasts, meals are not included; however, your guide can recommend restaurants or cafes for you to visit at your own expense.
Itinerary
Day 1: Rome
Check in to your hotel in the afternoon and enjoy free time to get acquainted with the Eternal City. Perhaps take a stroll to Ancient Rome to see the Colosseum and Roman Forum or visit a museum like the prestigious Borghese Gallery. In the early evening, meet your guide at your hotel for a welcome meeting, and then enjoy dinner. All entrance fees and activities are at your own expense.

Overnight: Hotel Stella or similar in Rome

Day 2: Rome – Naples – Pompeii – Naples (B)
Leave your hotel in the morning and travel with your guide to Rome Termini Station. Board your train and relax on the 3-hour journey south to Naples, the larger-than-life capital of Campania. Known for being the birthplace of pizza, Naples boasts pizzerias a plenty, so visit one of the best with your guide for a Neapolitan pizza lunch (own expense).

Then, visit the National Archeological Museum (Museo Archeologico Nazionale), one of the largest museums of its kind. Browse the extensive array of finds from the ancient cities of Pompeii and Herculaneum, and discover an Aladdin's Cave of Egyptian relics in the Borgia Collection. See mosaics and an intriguing collection of erotic statues that date back to the days of Ancient Rome.

In the late afternoon, board a train and travel inland to the archeological site at Pompeii, a UNESCO World Heritage Site. On a walking tour, learn about Mount Vesuvius' ancient eruption that buried the city for centuries, and puzzle over the fossils and ruins that are strewn around the site.

Return to Naples by train, check in to your hotel, and then spend your night at leisure.

Overnight: Hotel Amitrano or similar in Naples

Day 3: Naples (B)
The day is yours to spend doing whatever you like in Naples. Enjoy an excursion to the Sanctuary of St Mary of the Rosary in Pompeii – a pontifical shrine and Roman Catholic cathedral – or speak to your guide about two other activities at your own expense. Options include a visit to the ruins at Herculaneum or a tour of Cappella Sansevero – an incredible chapel tucked away in the backstreets of Naples. Admire the chapel's intricate marble statues, carved figurines and its dazzling centerpiece: an 18th-century Giuseppe Sanmartino painting called the Veiled Christ.

Overnight: Hotel Amitrano or similar in Naples

Day 4: Naples – Mount Vesuvius – Sorrento
Check out of your Naples hotel and travel by train to Sorrento, a lively town near the glimmering Amalfi Coast. On arrival, swap your mode of transport for an air-conditioned bus and travel inland to Mount Vesuvius. See solidified rivers of ancient lava as you travel to the volcano's foothills, and then hop off your bus to walk to the top. The walk is the best way to experience Vesuvius and, after 45 minutes of steady-paced walking, you'll hit the top. Gaze into the craters and walk along the ridge, soaking up volcanic views set against the Bay of Naples. After taking pictures, walk back down to your bus and travel back to Sorrento.

Check in to your hotel, enjoy some free time, and then enjoy a gelato-making demonstration in town in the evening.

Overnight: Hotel Linda or similar in Sorrento

Day 5: Sorrento
Enjoy a full day of free time to soak up the sunshine in Sorrento or discover the charms of the Amalfi Coast on your own. Perhaps visit the nearby island of Capri for a taste of Italian glamor, or take a boat ride along the Amalfi Coast, seeing picturesque villages like Positano and Amalfi stacked into the hills overlooking the sea. Activities are at your own expense.

Overnight: Hotel Linda or similar in Sorrento

Day 6: Sorrento – Amalfi Coast (B)
Leave Sorrento and travel along the coast to either Amalfi or Positano (depending on hotel availability). The two towns are located at the heart of the Amalfi Coast region, an area popular for its scenery with rocky cliffs that plunge dramatically into azure seas.

After checking in to your hotel, head out on a cliff-top walk along the rugged coastal trails that zigzag through the headlands. The foot trails are steep and rocky, but the views are a worthwhile reward! Gaze down at the coast over forests, ancient buildings and orange groves and soak up some of Italy's most magnificent vistas.

Head back to your hotel after your walk, and bid your guide a fond farewell. Spend your night at leisure.

Overnight: Hotel Fontana or similar in Amalfi or Positano

Day 7: Amalfi Coast (B)
Enjoy free time to do as little or as much as you please. Bask on the beach or shop for local delicacies, like Limoncello, to take home. The neighboring towns of Ravello – home to a spectacular 13th-century church – are well worth a visit, too.

Overnight: Hotel Fontana or similar in Amalfi or Positano

Day 8: Amalfi Coast
Check out of your hotel in the morning, finishing your 7-night tour on the Amalfi Coast.