Discover Rome in style as you zip through its ancient streets in a vintage, open-roof Fiat 500! Skip the mega tourist buses and travel like a true Italian as your local chauffer whisks you all over the city to explore its hidden gems and authentic treasures. During the 3-hour tour, your chauffeur will also be your personal paparazzo, snapping post-worthy photos of your group posing with the colorful Fiat among spectacular Roman scenery. Treat yourself and live 'la dolce vita'!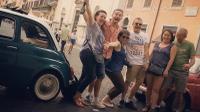 We will meet you at our garage very centrally located at only 200 m from the Coliseum. Your chauffeur will drive the FIAT 500 vintage car along a quiet and off-the-beaten-tracks itinerary. Travel in a colorful convoy with other Fiats.

During the 3-hour tour you will be shown the most fascinating 7-Hidden-Gems of Rome, spots off the normal central and well-known touristic attractions.

Our drivers know how to make your tour personalized and how to skip the lines. You will discover the legend of the Mouth of Truth, the oldest Lie Detector in the world, see where the 250.000 Ancient Romans greeted at the sunrise on the Solstice of Winter and created the alphabet we still use, see the Cathedral of the Death, listen to the sound of the kisses of the lovers in the most romantic and panoramic garden in the world, see 3 countries in a line, discover the beauty in the most original Egyptian-like monument in Rome and much more.

During the tour there will be time for your driver to offer to you one of the best cappuccino or espresso you will have ever sipped in your life. That's not all: feel like a Diva! your driver will also be your paparazzi and take plenty of great pics of you and of your partner or your family, in the FIAT 500 vintage car and in the Garden of the Lovers or while staring at the breathtaking panoramas of Rome. You will feel like a movie star while onlookers will take plenty of pics of you while zipping around the tiny cobblestone streets of Rome in a pink or in a red FIAT 500. You will experience that happiness exists!

At the end of the tour, our driver will drop you off at the Coliseum or in the central area of Rome and he will tell you where to enjoy some great mouth-watering gastronomic Italian dishes. The perfect Italian life style tour for couples, families, senior customers. Are you ready to experience one of the best five days in your life?