See the best of Salem with this combo tour that includes guided tours of the Salem Witch Village and the Salem Wax Museum. Come face-to-face with spooky replicas of the city's most famous historical figures such as Nathaniel Hawthorne. You'll also make a stop at Old Burying Point—the second oldest burial ground in the country—and see the iconic Witch Trials Memorial built to honor the victims of the 1962 Witchcraft Hysteria. Whether you're a first-time visitors or returning to Salem for another adventure, this popular tour combines two of the city's top attractions and is a guaranteed way to not miss out on any of the attractions.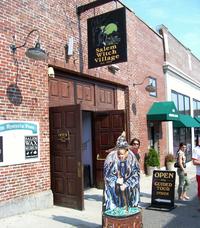 Find your way to the Salem Wax Museum and Witch Village in Salem, Massachusetts. This combo tour allows you to visit both sites, and you are free to choose the order and spend as much time as you like at each attraction. 

At the Salem Witch Village, embark on a 15-minute guided tour of the attraction. Follow your guide, a practicing witch, through an indoor maze containing scenes important to witchcraft history. Learn about the Salem Witch Trials, the Burning Times of Europe and the origin of stereotypes such as flying broomsticks and black cats. You'll also learn about what it means to be a witch in modern times. Visit the Old Burying Point, known as the second-oldest burial ground in the United States, and the Witch Trials Memorial, which stands in memory of the victims of the Witch Hysteria of 1692.

Cross the street to visit the Salem Wax Museum, which contains eerily lifelike figures of author Nathaniel Hawthorne, witch trials judge Colonel John Hawthorne and Tituba, the accused witch who fueled the hysteria in 1692. After perusing the gallery, check out the interactive area to be locked in a recreated witch hysteria-era jail cell, learn nautical knot-tying or do a stone grave rubbing.