Give your kids their first surf lesson, and they'll practice paddling, popping-up and riding waves on one of San Diego's prettiest beaches. They'll join a group of novice surfers and a team of kid-friendly instructors, and spend the 1.5-hour lesson learning new skills on the sand and in the water. It's a first taste of surfing that emphasizes safe practices and having fun, and is the perfect chance to experience Southern California's most iconic sport.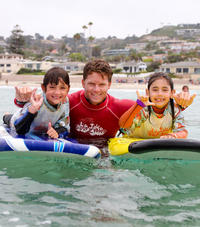 This group surfing lesson is just for kids aged 5 to 11 and is the perfect introduction to learning how to catch waves and improve surfing skills. The group setting makes the surf lesson a fun activity to share with other adventure-seeking kids.

A team of expert instructors will cover basic aspects of surfing, from ocean safety and surf etiquette to paddling, pop-ups and wave-riding techniques. But perfection isn't necessary – follow the motto "the best surfer in the water is the one having the most fun," and you'll have a wonderful time, even if you don't master the sport in 90 minutes.

Please note: Surf instructors are certified in CPR, first aid and lifesaving and the surf school is permitted by the City of San Diego.