Paddle, pop-up and ride a wave with a 1.5-hour surf lesson at La Jolla Shores, one of San Diego's most scenic beaches. Learn the basics on the sand, then head into the water with expert instructors and a group of beginning surfers. Catch breaking sets as you surf alongside your instructors, and perfect your technique with their tips and advice. Watch for the dolphins and sea lions that live along the Pacific Coast, enjoy San Diego's famously warm water, and get an unforgettable taste of California's most iconic sport.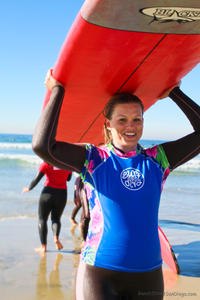 A coed group surfing lesson is a fantastic way to spend a day in Southern California and learn how to surf in a fun and encouraging environment. It's the perfect introduction to learning how to catch waves and live the surfing lifestyle. The group setting makes learning to surf a fun activity, whether you've signed up with friends or you're ready to make new ones.

If you have never surfed before or want to refresh your skills, this is the perfect course to get your feet wet! Expert instructors will cover basic aspects of surfing, from ocean safety and surf etiquette to paddling, pop-ups and wave-riding techniques. Surf instructors are certified in CPR, first aid and lifesaving and the surf school is permitted by the City of San Diego.