Go deep into the world of canyons and cowboys on a 2-hour off-road tour from Sedona, and experience the rich history and rugged scenery of the magnificent Sonoran Desert. Ride a 4WD into historic Dry Creek Basin, and hear stories of rebels and renegades at a frontier cabin made from hand-hewn logs. Enjoy views of Sedona's brilliant rock formations, and watch for the lizards, birds and mammals that make their home in the harsh desert environment.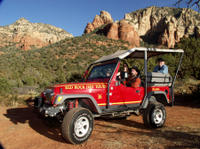 A rugged ride into the scenic and historic Dry Creek Basin surrounded by seven majestic canyons to the hand-hewn log cabin that stands as a reminder of Sedona's colorful past. Relive the early cowboy days and the old Van Deren cabin and hear the colorful story of its historic beginnings.

This is a great tour to capture the color and beauty of Sedona.