Sail the waters of Resurrection Bay in search of Californian gray whales on a 4-hour cruise from Seward. These huge mammals arrive here every March through May on their annual migration northward into Alaska's waters. Watch for these incredible beasts and other whale species, as well as other wildlife, and view the luminous blue glaciers crowning the surrounding mountains. On board commentary, binoculars, and hot drinks included.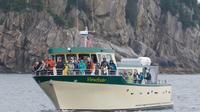 Travel independently to Seward harbor front, arriving warmly dressed, wearing several layers, a hat, gloves, and rubber-soled shoes.

Then, board your ship, and after a safety briefing, gaze back at Seward as you sail into Resurrection Bay. From March through May, the bay is visited by Californian gray whales as they make their annual journey north from Baja, California to the Bering Sea. Your cruise will travel 55 miles (88.5 kilometres) along the coast in search of sightings.

Listen to the on-board commentary about the whales, and scan the seas using the supplied binoculars. With luck, enjoy sightings: unforgettable views of these majestic mammals in their natural habitat.

Watch, too, for humpback and orca whales, dall's porpoises, seals, and sea otters, and perhaps spot bears and mountain goats with their young on the rocky shores.

Look for glaciers as you trace the coastline, seeing the blue ice of Bear Glacier, a Piedmont Glacier, and Kenai Fjords National Park's biggest glacier, all nestled in the mountains.

As you cruise, enjoy included tea, coffee, and water, and any refreshments you've brought aboard. Wine, beer, and snacks can be purchased on board (own expense).

Your 4-hour cruise finishes when your ship docks at Seward.