Journey through Guilin's enchanting landscapes on this full-day tour of the region's highlights from Shanghai, including lunch and round-trip flights from Shanghai to Guilin. Keep your camera close by as you journey through the dramatic karst landscapes, stopping to admire natural landmarks like Elephant Trunk Hill and take in the views from the 203-foot (62-meter) peak of Fubo Hill. After lunch, venture underground to view ancient artworks in the Thousand Buddha Cave and explore the beautiful Reed Flute Cave.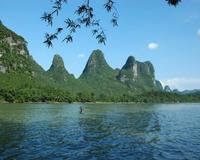 During your time in Shanghai, take a day trip to discover the beauty of Guilin. The scenery of Guilin has been called 'the most spectacular under the heaven.' Come here to experience the beauty of the karst mountains soaring into the sky, with mists and haze dancing in the background. You'll also see intricate limestone carvings, stalactite formations and waterways.

After flying into Guilin from Shanghai, you'll be picked up and brought to the Elephant Hill, located on the western bank of the Li River. The shape of the hill resembles a large elephant drinking water through its trunk. Climb up the stairs for a bird's-eye view of Guilin.

Next, visit Fubo Hill, a peak that stands in the middle of the Li River. Fubo Hill soars up 203 feet (62 meters) and is 700 feet (213 meters) high above the sea level. The hill resembles more of a vertical rock eruption than a hill, and its peak affords beautiful views of the countryside. Walk to the Returned Pearl Cave and the Thousand Buddha Cave to see etchings of Buddha dating back to the Song and Tang Dynasties (618 - 1279).

Finish by visiting the Reed Flute Cave, a natural limestone cave with multicolored lighting. Wander inside and you'll be amazed by the large number of stalactites, stalagmites and rock formations. The fascinating Reed Flute Cave dates back 180 million years.

After seeing the best of Guilin in a day, you'll return to Guilin airport and head back to Shanghai.