Explore the Sinai Desert from Sharm El Sheikh on a private 4WD Jeep safari with a hike through the Colored Canyon, and discover the rugged beauty of Egypt's harsh landscape. Watch for the Sinai's foxes, hyenas and ibex as you travel to the iconic canyon, slip through narrow passages shaped by desert wind and see the region's geological history exposed in brilliant layers. Leave the wilderness for the village of Dahab to enjoy a seaside lunch and browse Bedouin handicrafts before returning to Sharm El Sheikh.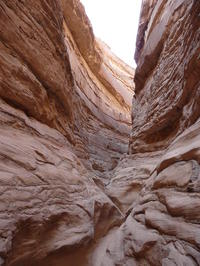 Take a jeep safari for the 240 kilometer trip from Sharm el Sheikh to the amazing colored canyon. Keep your eyes open for the local wildlife including Nubian Ibex, Red Foxes and Striped Hyenas.

Hike through the different formations of the mountains with a multitude of colors reflecting in the sun. The colors are clear evidence of the oxidization of the rocky minerals millions of years ago.

On the way back to Sharm el Sheikh, stop by the sea front restaurant at Nuweiba to have lunch, before continuing to Dahab for some shopping.

Please note: Please note the hike requires a reasonable level of fitness. This tour is not recommended for large people or those suffering claustrophobia, as you will pass through narrow passages during the hike. This tour is not recommended for the elderly, those with heart conditions or other serious illnesses.