This Sitka Super Saver gives you two best-selling tours at a discounted price. Aboard a catamaran, enjoy two hours of gorgeous natural scenery and keep watch for whales, porpoises, otters and birds. Back on land, explore by comfortable van Sitka's top attractions like Japonski Island and Sitka National Historical Park. Your 2-hour Sitka city tour includes a visit to Fortress of the Bear, where you'll see adorable bear cubs from a short and safe distance. This small-group experience limited to just six people includes port transport.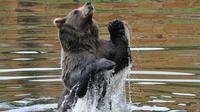 Meet your group in front of the 26-foot-long (8-meter) Glacier Bay catamaran for your whale-watching cruise. Once on board, take shelter in a warm, comfortable cabin with large windows, or head out to the spacious deck.

Your expert captain, a Sitka local, will take you out to the best sites to spot humpback and gray whales as well as porpoises, sea otters, seals, and some of the nearly 300 bird species that live in the region. The captain will try to customize the tour to your interests, but weather and sea conditions do influence the itinerary for the trip.

While wildlife sightings are never guaranteed, it's likely you will witness spectacular creatures going about their daily lives. In the summer months, humpback and gray whales feast on a buffet of krill, fish and other shrimp-like critters before migrating to warmer climates in the fall. As your guide explains some of their feeding techniques, see if you can spot a thrashing fluke (tail) on the water's surface. You might also see otters lounging in kelp, or hear seals barking.

Return to land and jump in a comfortable 14-passenger van for a 2-hour land tour. Drive over the O'Connell Bridge for a fantastic view of Sitka before heading to Japonski Island, where you'll hear about Sitka's role in World War II.

For more history, venture over to Sitka National Historical Park to admire the Tlingit and Haida totem poles amidst spruce and hemlock trees. From there, your guide takes you to another part of the park to an easy walking path that overlooks the Indian River. In the middle of the season, witness salmon spawning while your knowledgeable guide teaches you about the amazing life cycle of the salmon.

After your brisk walk, leave the park and drive south on a scenic road along Silver Bay. Your trip concludes at Fortress of the Bear, the largest bear reserve in North America. The habitat takes in orphaned bear cubs, and you can observe them from some 25 feet (8m) away. Throughout your visit, you can chat with the knowledgeable staff who take care of the bears.

Once your 4-hour combo tour is over, you are transported back to your starting point.