Enter a treasure trove of world-renowned art and cultural artifacts on this 3-hour tour of the Hermitage State Museum. Together with an art-loving guide, you'll see the highlights of the museum's vast collection, which at three million pieces is among the largest in the world. Admire original masterpieces by the likes of Leonardo da Vinci, Rodin, Monet, and Michelangelo, and hear little-known facts about the artists and their work.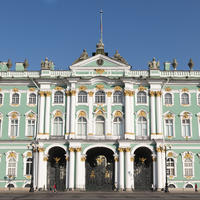 Join up with your guide and group in Palace Square at 2pm, and then make your way inside the Hermitage State Museum. Having started out as a modest art collection for Catherine the Great to impress her guests with, the Hermitage has grown into one of the world's most renowned art museums, displaying masterpieces from the ancient world, Western Europe, Russia, and the East.

With more than three million works of art and cultural artifacts spread across six buildings — Small Hermitage, Old Hermitage, Winter Palace, New Hermitage, Reserve House, and Hermitage Theatre — the museum's main complex is expansive and visiting independently can be overwhelming. On this tour, your guide takes away the stress, leading you straight to the museum's highlights and providing context around what you see.

Get up close to masterpieces by Italian greats like Michelangelo, Leonardo da Vinci, and Raphael; see French Impressionist paintings by Renoir, Matisse, Cezanne, and Monet; and admire sculptures such as Rodin's The Age of Bronze.

In addition to the artwork, the museum's interior is notable in its own right. As the former official residence of the Russian monarchs, the Winter Palace boasts grandiose staircases, gold gilding, and chandeliers dripping with crystals.

Your tour concludes inside the museum after roughly three hours, leaving you free to continue exploring independently should you wish.