Step back to the days of Russia's 18th-century Tsars on a 4-hour tour of the Catherine Palace in Pushkin, formerly called Tsarskoe Selo. Travel from St Petersburg by air-conditioned vehicle and tour the the blue-and-white baroque palace, sometimes dubbed the Pushkin Palace. Ogle the gold and marble interiors, including the Amber Room, spectacularly coated in amber and mirrors; and admire the gardens. Upgrade to include a visit to the Pavlovsk Palace, one of the most beautiful palaces in St Petersburg. Numbers are limited to nine for a more personalized experience.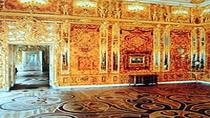 Leave your St Petersburg hotel and travel by air-conditioned vehicle to the town of Pushkin, just south of the city.

Formerly known as Tsarskoe Selo, Pushkin is home to one Russia's grandest royal estates — the Catherine Palace, built in the 1700s as a residence for Catherine I and once called the Palace of Tsarskoe Selo. Originally modest, the palace was remodelled by Catherine's daughter, Empress Elizabeth, in the mid-1700s, who turned it into the extravagant baroque residence of today.

On arrival, absorb the blue-and-white façade and take a guided tour inside. Marvel at the rococo state rooms and halls embellished with stucco, frescoes and marble, and visit the showpiece —the extraordinary Amber Room.

Covered in amber panels that replicate the originals looted by the Nazis in World War II and subsequently lost, this spectacular room is a vision of shimmering amber work, gold leaf and mirrors.

The original room was dubbed the 'Eighth Wonder of the World', and today's replica was made using 13,000 pounds (6,000 kilograms) of amber.

After your tour, stroll around Catherine Park, the gardens that surround the residence. Walk along the tree-lined avenues and admire the picturesque buildings that speckle the lawns.

If you've chosen to upgrade when booking, continue to the Pavlovsk Palace, the elegant residence of Tsar Paul I, the son of Catherine the Great, on the fringes of St Petersburg.

Note the restrained design of the neo-classical building compared to the Catherine Palace, and explore the ornate, themed interiors with your guide. Walk through the ornate Egyptian Vestibule, the elaborate Grecian Hall and Italian Hall, and see the Hall of War, decorated with military models.

Then, visit the beautiful gardens, whose lawns are sprinkled with copses, streams and follies, including pavilions and colonnades.
Your tour then finishes with a drop-off back at your hotel.