Be sure to put a performance by Opera Australia at the iconic Sydney Opera House on your Sydney itinerary. The upcoming 2016-17 season features classic operas by Mozart, Rossini and Bizet, and a special 60th anniversary production of the popular Broadway musical 'My Fair Lady.' Take in stunning views of Sydney Harbour while enjoying drinks or a meal (own expense) at one of the Opera House's fine dining venues before or after the performance to top off this unforgettable experience.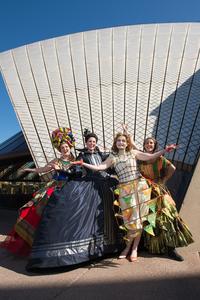 Once you have selected your choice of performance at the UNESCO World Heritage-listed Sydney Opera House, simply make your own way to the legendary performing arts venue for a quintessential Sydney experience.

Emerging stars join longtime favorites for Opera Australia's 2016 and 2017 opera season performances, which take place in the Joan Sutherland Theatre (formerly the Opera Theatre), the second largest concert hall in the Sydney Opera House at 1,507 seats. Operas are performed in their original languages (mostly Italian), with subtitles in English projected on a screen above the stage.

To celebrate the 60th anniversary of Opera Australia and the original Broadway performance of My Fair Lady, Dame Julie Andrews directs a special production of My Fair Lady with performances from September to November 2016. If your plans take you to Sydney then, snap up a ticket for this exclusive event.

Bars inside the Sydney Opera House open one hour prior to performance time — arrive early to enjoy a pre-theater drink (own expense) and admire sweeping views of Sydney Harbour and the Harbour Bridge.

See the Itinerary section below for details about the 2016 and 2017 season.
Itinerary
2016 Performances dates at the Sydney Opera House:

My Fair Lady (musical)
On 15 March 1956 at the Mark Hellinger Theater on Broadway something extraordinary happened that would change the course of music theater history forever: it was called My Fair Lady. Playing the role of Eliza Doolittle in New York and London was a young Julie Andrews, in only her second role on Broadway, and in the role that would define her career and help catapult her to international stardom. Now, in the 60th anniversary year of the Broadway premiere, and in the 60th birthday year of Opera Australia, they have teamed again with John Frost to recreate that sensational 1956 production with none other than Dame Julie Andrews at the helm as director. A stellar cast of Australian theater royalty will be especially assembled for My Fair Lady.

1pm:
September 2016: 7, 10, 13, 14, 17, 20, 21, 24, 27, 28
October 2016: 1, 4, 5, 8, 11, 12, 15, 18, 19, 22, 25, 26, 29
November 2016: 1, 2, 5

3pm
September 2016: 11, 18, 25
October 2016: 2, 9, 16, 23, 30

7:30pm
September 2016: 6, 8, 9, 10, 14, 15, 16, 17, 21, 22, 23, 24, 28, 29, 30
October 2016: 1, 5, 6, 7, 8, 12, 13, 14, 15, 19, 20, 21, 22, 26, 27, 28, 29
November 2016: 2, 3, 4, 5

La Boheme
A painter, a musician, a philosopher and a poet are having a night on the town. Café Momus is too pricey for them — they've nothing to weigh down those moth-eaten pockets. But why worry? The landlord is sorted, the bar tab can wait. They're young and their lofty ideals will keep body and soul together. And then there's love. Ah, love. That tingle of electricity as two hands meet. The fire in the eyes of the girl you want so badly. Love will keep us warm, won't it? Gale Edwards' glittering production is about sacrifice and never giving up, even if it means parting with your lover — or your favorite coat. It provides a perfect setting for these utterly human emotions: in the bohemian streets of 1930s Berlin, in the color and chaos of street fairs and burlesque bars, fairy-lights and fishnet stockings.

7:30pm
January 2017: 4, 5, 6, 7, 17, 19, 21, 23
February 2017: 24, 27
March 2017: 1, 9, 11, 15

12:30pm
January 2017: 14
March 2017: 4, 18, 20, 24

Great Opera Hits
Stroll down to the Sydney Opera House and join the stars of Opera Australia for a concert of the greatest hits of opera.  These relaxed concerts take place on summer afternoons as the sun sets across Sydney Harbour, and last around 90 minutes. Listen to famous arias from Bizet, Puccini, Rossini and Verdi performed by some of Opera Australia's finest opera singers, accompanied by piano.

5pm
December 2016: 26
January 2017: 1, 15, 22,
February 2017: 12, 22, 26
March 2017: 5, 12, 19, 26

Cavalleria Rusticana / Pagliacci
Roll up for a double dose of desperation and drama in this classic double bill of tragedies with stories that cut all too close to home. In a small Italian town, lusting after someone who is not yours is a dangerous game. And falling in love? Even more treacherous. Two short operas explore the full spectrum of emotion: passionate love, consuming lust, bitter suffering and boundless rage. This Olivier Award-winning co-production with the Royal Opera House lays bare the raw heart of each opera — ordinary people, driven by emotion to the limits of what we know is human. The result is pure catharsis: everyday tragedy writ large on stage.

12:30pm
January 2017: 21
February 2017: 4

7:30pm:
January 2017: 12, 18, 24, 27, 30
February 2017: 1

7:45pm:
January 2017: 14

King Roger
Watching his wife dance under the stranger's spell, King Roger struggles with his own passions: choosing between the sacred love he knows and the sensuous, glittering realm of hedonism the shepherd preaches. Szymanowski's intoxicating, iridescent music is rarely heard on the opera stage, so don't miss this once-in-a-lifetime opportunity to hear a 20th-century Polish masterpiece. Andrea Molino conducts a cast led by Saimir Pirgu, Lorina Gore and Michael Honeyman.

1pm:
February 2017: 11

7:30pm:
January 2017: 20, 28, 31
February 2017: 2, 48, 15

La Traviata
Raise your glass, flutter your pretty lashes, it's Paris in the salons and you're the life of this party. He's staring at you, he's singing for you... Are you tempted? Violetta wears velvet and lace and drinks the very best champagne from crystal glasses. Her parties are legendary, her company sought after. She's free and free-spirited, living outside society's bounds, and for the courtesan, it seems like the party will never end. Could a little love really change everything? This production by Elijah Moshinsky is one of the most successful, featuring lush party scenes in Paris and beautiful autumn afternoons in the countryside.

1pm:
March 2017: 11

7:30pm:
February 2017: 3, 9, 11, 14, 16, 18, 23, 25
March 2017: 2, 4, 6, 8, 9, 13, 16, 18, 21, 23, 25, 28, 30,
April 2017: 1

Tosca
Tosca is a war drama that draws you in from the first notes and holds you fast, as a gripping story of love, lust and betrayal that unfolds at breakneck pace. John Bell's intense production relocates the opera to Nazi-occupied Rome, seeking to recapture the shock Puccini's original audience might have felt seeing a war they remembered, depicted on stage.

1pm:
February 2017: 25, 28
March 2017: 25

7:30pm:
February 2017: 17, 21
March 2017: 3, 7, 10, 14, 17, 22, 29, 31

Two Weddings, One Bride (sung in English)
Gather for a fun night of opera at the Sydney Opera House and let the sumptuous costumes, pretty sets and joyful melodies take you all the way to French Morocco. All of the favorite operetta waltzes, polkas and songs by Strauss, Offenbach, Lehár and more come together in this raucous comedy. The governor is in a pickle. Those bankers are so fickle! He's stretched the state purse a little too far and his creditors will soon come a-knocking. But twin daughters he's got, so he hatches a plot, which might save him from a royal bollocking! A double wedding could save the day, but when pesky pirates get in the way, it's up to Giroflé to make things okay.

1pm:
May 2017: 3, 10, 17
June 2017: 14, 21
October 2017: 18

5pm:
April 2017: 30, 7, 14, 21
June 2017: 11, 18, 25
October 2017: 15, 22

7:30pm:
April 2017: 27, 29
May 2017: 2, 3, 4, 5, 6, 9, 10, 11, 12, 13, 16, 17, 18, 19, 20
June 2017: 7, 8, 9, 10, 13, 14, 15, 16, 17, 20, 21, 22, 23, 24
October 2017: 12, 13, 14, 17, 18, 19, 20, 21