At Busch Gardens Tampa, a 335-acre African-themed animal park, enjoy the ultimate family adventure. The park has one of the largest zoos in North America, with more than 12,000 animals. There are also exciting rides, live shows, restaurants, shops and games. Experience fun and adventure for the whole family. Upgrade to include admission to SeaWorld Orlando and Aquatica, SeaWorld's waterpark.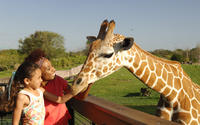 As one of the largest zoos in North America, Busch Gardens Tampa provides an unforgettable experience for the entire family. The park is home to 12,000 animals representing more than 250 species. From alligators and elephants to hippos and hyenas, there is a huge variety of animals to see — and get close to. In fact, Busch Gardens brings guests face to face (literally) with more exotic and endangered species than any attraction outside of Africa.

Fly above the trees on a zip line and try your strength in a tug of war with a Bengal tiger in Jungala.

The park's large collection of roller coasters makes it Florida's top spot for thrill rides. Try SheiKra, the first dive coaster in the country.

Upgrade this ticket to include admission to SeaWorld Orlando, a theme park offering more roller coasters, rides, shows, attractions and family-friendly activities for thrill seekers and animal lovers alike. See dolphins, white beluga whales and penguins. Plus visit Aquatica, SeaWorld's waterpark, with rivers to float in and enclosed tube slides.

Please note: Tickets are only valid on selected date of travel.
Itinerary
Exhibits:
Jungala
Experience all that and more at Jungala, the newest addition to Busch Gardens. Set in the lush Congo area, Jungala is four acres of fun filled with up-close animal interactions, a three-story maze of rope bridges and nets for kids to climb, two signature rides and live entertainment.

Edge of Africa
Embark on a walking safari through Edge of Africa and encounter exotic African animals in naturalistic habitats, including hippos, lions, hyenas, lemurs, meerkats, crocodiles and lappet-faced vultures. Set your own pace as you explore this attraction themed around an abandoned African fishing village.

Serengeti Safari
Observe hundreds of exotic animals from a variety of perspectives. Enjoy a passing scene from our Serengeti Express Railway. Get a bird's eye view from the Skyride. Take a truck tour of the plains on a Serengeti Safari. Or go exploring along scenic walkways that feature rolling landscapes, high-ground vistas and lush vegetation all reflecting the natural beauty of the wide open African wilderness.

Myombe Reserve
Enter a lush forest habitat where gorillas and chimpanzees can be found enjoying life to the fullest as they live and play in a natural environment. One look into their eyes, and you'll feel the kind of connection that quickly dissolves any barrier between our species. Peer through the mists and fog of Myombe's Great Ape Domain for a close-up look into the world of fascinating and majestic animals that most people see only in books and documentaries, and feel your world get at once larger and smaller.

Shows:
Iceploration
This 30-minute show tells the story of Austin, who believes technology keeps his pre-teen generation connected more than ever, and his grandfather – and old-world explorer – who encourages him to put down the smartphone to explore the world. Join them as they tour the the African Serengeti, Great Barrier Reef, the Arctic and the Amazon rain forest!

Madagascar Live! Operation: Vacation
Party along with Alex the Lion and his friends as they vacation with guests at Busch Gardens. This original live musical show features singers, dancers and rock/pop music performed by a live band. Sing, clap and dance along to original songs and party favorites as you join the Madagascar characters on their full throttle Busch Gardens adventure.

Elmo Rocks
Join Elmo, Zoe, Cookie Monster, Bert and Ernie, on a rock-fueled adventure filled with family-friendly fun and great music!

Rides:
Sheikra
After a 200 foot climb, this cunning coaster takes you just over the edge of a true 90-degree drop. And stops. For 4 seconds, you find yourself looking down - straight down - at the ground below as you're held suspended above it. Then, like the sub-Saharan bird of prey for which it's named, you plunge straight toward the ground, racing at speeds of more than 70 miles per hour. An Immelmann loop and a second vertical dive into an underground tunnel end with a surprise twist for those who look on - because with SheiKra, even they cannot escape.

Montu
If you're crazy about coasters, Montu has your lucky number: 7. That's the number of insane inversions you'll do on this monster coaster - one of the tallest and longest inverted coasters in the world. Named for an ancient Egyptian god of war, conquering this coaster is a challenge that will test your courage at every turn. Consistently rated as one of the top steel coasters in the world for its unique Batwing inversion and the intense 3.85 Gs you'll feel blazing through this thrilling track, it's easy to see what keeps this beast on the coaster enthusiasts' favorites list year after year.

Cheetah Chase
Travel to Timbuktu and you'll find young kids' favorite ride in the park, Cheetah Chase. This fun-filled family coaster is inspired by the playful side of one of the coolest and the fastest cats on the planet. This wild ride zips, zooms and climbs five stories into the air before bringing riders back down in a roar of laughter.

Kumba
It is said that if you can hear the roar of a lion in the distance, you have crossed into his territory. And have been warned. The natives call his roar the Kumba. And you'll feel his breath on the back of your neck from the moment you step aboard the mighty coaster that earned his name. Consistently voted one of the world's top roller coasters by enthusiasts around the world, this legendary beast takes you from hair-raising heights to absolute weightlessness through seven inversions, all with the grace and speed of this magnificent predator.