Lose yourself in Japan's majestic cultural tapestry on a 14-day tour of the country's iconic locations from Tokyo. Alongside an expert guide, experience the luminescent streets of Tokyo, the poignant monuments of Hiroshima Peace Park, and the soothing hot springs of Hakone. Absorb the sacred atmosphere of the Toshogu Shrine, pleasure your palate with the street food of Takayama market, and spend 13 nights luxuriating in comfortable hotels and guest houses. Enjoy meals indicated by the itinerary, and receive personalized attention from your guide on this small-group tour, limited to only 12 people.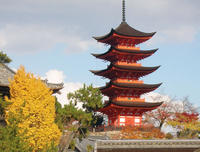 Gain fascinating insight into Japan's distinctive and dynamic culture on this 14-day journey through the Land of the Rising Sun. In addition to admission to Japan's premium attractions, enjoy 13 nights of accommodations in traditional guesthouses, Japanese inns, and a luxurious hotel. 

Enjoy a balanced combination of guided tours and relaxed free time, and relish the freedom to customize your itinerary according to your interests. Experience the exhilaration of activities, such as cable car rides, and delight in the tranquility of UNESCO-listed temples, such as the Golden Pavilion. 

Please see the Itinerary section for a detailed breakdown of the tour.
Itinerary