Escape the metropolitan mayhem of Tokyo on a relaxing 2-day excursion to Mt Fuji. Witness the natural splendor of the region with a knowledgeable guide, visiting serene spots like Lake Ashi and the soothing hot springs of Hakone. Explore the revitalizing resort town at your leisure and cruise along the Mt Komagatake Ropeway to admire stunning views of the surrounding scenery. Enhance your experience by upgrading to include a traditional Japanese breakfast and dinner at your hotel.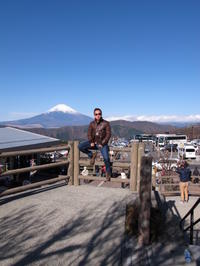 Take two days out from the demanding duress of modern life and explore the scenic splendor of Mt Fuli and Hakone. Take a variety of transport to explore some of the region's most impressive landscapes; cruise the shimmering surface of Lake Ashi; take a guided tour of the monumental Mt Fuji; and absorb the quaint charm of Hakone during a leisurely day of independent exploration.
Enjoy some well-deserved relaxation time in your comfortable western-style accommodation at the end of your first day and soothe aching muscles in the Hakone Hotel Kowakien's steaming hot spring baths.
Enhance your cultural experience with a Japanese-style room with open-air baths and complimentary breakfast and dinner at the Yunohana Onsen Hotel.
Itinerary
Day 1: Tokyo – Hakone (L) (D — if upgrade selected)
Your 2-day tour begins with pickup from selected hotels before departing Hamamatsucho Bus Terminal by comfortable coach. Relax during the 2-hour trip to Mt Fuji, Japan's highest mountain, which provides a breathtaking backdrop as its iconic peak looms closer.
Upon reaching the mountain, stop by the Fuji visitor center for approx. 20 minutes to learn about current weather conditions as well as the history, formation and ecology of beloved 'Fujisan' through exhibits and films. The second-floor observatory deck provides spectacular close-up views.
Prepare to be wowed as your coach heads uphill to Mt Fuji 5th Station, climbing 7,546 feet (2,300 meters) above sea level. On a clear day, look up the mountain slopes and take in its surrounding lakes; you'll feel almost close enough to reach out and touch the summit. Torii gates, shrines and souvenir shops decorate this station, known as the border between the heavens and the earth.


Enjoy a Japanese-style lunch with a set meal before continuing on to Lake Ashi for a 15-minute boat cruise from Kojiri to Hakone.
Disembark here to ride the Hakone Komagatake Ropeway for 50 minutes to the mountain peak, situated at an elevation of 4,452 feet (1,357 meters). You'll have superb views over Hakone National Park before making your descent with your guide.
Stay the night in Hakone, famous for its hot springs (known as onsen) and natural beauty, with a choice of two accommodation options. Upgrade for a Japanese-style room that includes dinner and breakfast the following morning.
Overnight: Hakone Hotel Kowakien or Yunohana Onsen Hotel in Hakone
Day 2: Hakone – Tokyo (B — if upgrade selected)
After checking out of your hotel, you have the entire day free to explore Hakone at your leisure, with a provided Hakone Free Pass. This one-day pass lets you board designated transportation in Hakone, including the Hakone Tozan bus, train, cable car, Hakone Ropeway, Hakone sightseeing ship, Numazu Tozan Tokai bus and Odakyu express bus. With this unlimited access, you don't need a guide to accompany you to top destinations in the area.
In the early evening, make your own way to Odawara Station by local bus or train and return to Tokyo with a reserved seat aboard the Kodama Shinkansen bullet train, arriving at Tokyo Station in just 40 minutes.