Get a taste for Tokyo's nightlife and dining district of Roppongi as you enjoy a 90-minute walking tour at dusk with dinner at Shabuzen, a traditional Japanese eatery that's frequented by local and international celebrities. Check out some of the top attractions in this downtown Tokyo neighborhood, before enjoying an all-you-can-eat meal of Japanese hotpot (a dish made of thin slices of beef and vegetables), including 'sukiyaki,' 'shabu-shabu' and vegetarian options. This delicious evening excursion in Roppongi also includes an English-speaking guide.
Why Our Insiders Chose This Tour
And there goes the neighborhood -- Roppongi is one of the most popular night spots in Tokyo for both locals and international visitors alike. After your dinner experience, top off your night by visiting one of the many entertainment establishments in the area.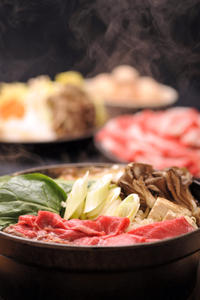 Savor the fun-filled nightlife, entertainment and dining of Tokyo's Roppongi neighborhood during this short walking tour with dinner at Shabuzen, where you'll enjoy hot pot favorites like shabu-shabu and sukiyaki. This excursion offers the perfect taste of all the shopping, food and fun that Roppongi has to offer.
Start your Roppongi excursion at the Grand Hyatt Tokyo Roppongi in the evening, where you'll meet your guide and begin a short walking tour of the district. Admire this bustling neighborhood, its neon signage and glitzy retail outlets glowing in the fading light of twilight, as you check out Roppongi sights like Keyakizaka-dori and Azabujuban.
Finish your short walking tour and head to the Shabuzen restaurant, a frequent hangout spot for local and international celebrities alike. Get comfortable and listen as your guide explains the eatery's all-you-can-eat menu before bidding farewell for the evening.
Depending on the tour option you've selected, your dinner consists of either sukiyaki, one of the most popular styles of hot pot, or shabu-shabu, a slightly less sweet variation. Both styles are made with thinly-sliced beef and vegetables which are assembled at the table in front of you and accompanied by dipping sauce. A vegetarian option of hot pot with meatless side dishes is also available if you like. Full details on the menu options are detailed in the Itinerary below.
Please note that drinks are not included with your dinner and can be purchased at your own expense.
After your filling dinner, feel free to explore the area on your own or head back to your Tokyo hotel.
Itinerary
Option 1: Shabu-shabuIf you select shabu-shabu, enjoy a savory variation of hot-pot style — very thinly sliced beef cooked in a fondue dish with vegetables such as mushrooms, carrots, nori (seaweed) and onions.
Option 2: SukiyakiIf you select sukiyaki, a sweeter hot-pot style dish typically served in winter, enjoy thinly sliced beef slowly simmered in broth with soy sauce, mirin, sake and sugar in a shallow iron pot at your table.
Option 3: VegetarianIf you select a vegetarian option, enjoy a vegetable hot pot with a three-piece assortment of seasonal vegetables, soup in an earthenware teapot, steamed white rice with miso soup, pickles and dessert. (Please note: The soup base is a fish broth and eggs are used in the tempura batter.)