Stay overnight at a comfortable camp on the island of Kvaløya during this 15-hour tour from Tromsø. You'll stay in a traditional Sami lavvu (tent), and have excellent viewing conditions if the Northern Lights come out. You'll also take a ride on a reindeer sled, try a traditional dish, and learn about indigenous culture from your Sami guide.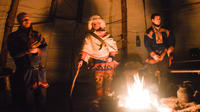 Make your own way to the Radisson Blu Hotel in Tromsø to meet your guide and drive to the quiet location on the island of Kvaløya where you'll stay overnight.

Begin with a 30-minute ride on a sled pulled by reindeer, and feed the reindeer a treat at the end. Then get warm inside the lavvu as you eat a traditional stew that is typically made for weddings and other special occasions. Your meal is accompanied by a hot drink such as coffee, tea, or hot chocolate, and your Sami guide shares stories about Sami culture, history, and reindeer herding.

Afterward, you can continue to chat with your guide, or take a look outdoors to see if the aurora borealis is lighting up the night sky. This location has few artificial lights, which makes it a prime place to see the Northern Lights. When ready, head to your lavvu for a cozy night of sleeping on reindeer hides in winter-insulated sleeping bags.

In the morning, breakfast is served before you are transferred back to Tromsø where your tour ends around 9:30am.