See the UNESCO-listed Terracotta Warriors and lesser-known 'Mini Terracotta Warriors' on a private 8-hour tour from Xi'an. Visit the Yang Ling Han-Dynasty Mausoleum in Xianyang to view the terracotta people and animal sculptures unearthed in the 2nd-century BC tomb of emperor Liu Qi. Then, after a Chinese lunch, see the world-famous clay army buried with China's first emperor at the Terracotta Warriors Museum. Entrance fees, private transport, and Xi'an hotel pickup and drop-off included.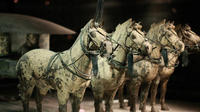 After pickup from your Xi'an hotel, travel northward with your guide by private, air-conditioned vehicle to the Yang Ling Mausoleum of Han Dynasty.

Situated in Xianyang, this 2nd-century BC mausoleum is the tomb of the Han-dynasty emperor, Liu Qi, and his empress, Wang, and is dubbed the 'Mini Terracotta Warriors.'

Discovered in the 1980s, excavations of the mausoleum revealed a stunning array of relics, including the two tombs, terracotta statues, and caches of domestic artefacts.

Admire the terracotta figurines carved as servants, riders, and domestic animals, and gaze through the glass floors at the excavation pits, still containing hordes of half-hidden statues and crockery.

Next, enjoy a Chinese restaurant lunch before heading to the UNESCO-listed Terracotta Warriors and Horses Museum just outside Xi'an. Head inside and marvel at the rows of more than 7,000 of these extraordinary, life-size clay sculptures.

See Pit 1, the largest excavated pit and home to 6,000 soldiers, and gaze at Pits 2 and 3, filled with cavalry and infantry. As you explore, learn how and why this 3rd-century BC army was created, and admire the bronze chariots and other treasures shown in the museum's Multi-Exhibition Hall.

Your tour then concludes at your hotel in Xi'an.