Discover old Xian's City Wall, traditional backstreets, and an age-old creative art form, all in one afternoon on this 4-hour tour. Walk the top of the 14th-century City Wall, soak up the atmosphere and food stalls of Muslim Street, and try the ancient Chinese art of paper cutting. Wall entrance ticket, bottled water, paper cutting workshop, and hotel pickup on foot included.
Highlights
4-hour Xian City Wall and paper cutting class experience
Walk on Xian's 14th-century City Wall
Visit Muslim Street in old Xian, known for its food stalls
Learn the ancient art of Chinese paper cutting at the Gao Grand Courtyard
Wall entrance fee, paper cutting class, and bottled water included
Includes hotel pickup on foot, with travel by public transport at own expense
What You Can Expect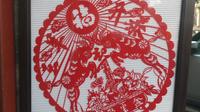 Meet your guide at your downtown hotel, and travel by public transport (own expense) to the South Gate of the City Wall.

On route, hear about the wall's history and construction. Built in around 1370 and measuring 8.5 miles (14 kilometers) long and 40 feet (12 meters) high, this massive structure is the oldest, biggest, and best preserved city wall in China.

Enter the beautiful South Gate and ascend to the top. Here, absorb the far-reaching city views, and opt to walk or ride a rental bike (additional cost) along the walkway.

Next, head into old Xian's Muslim Quarter, home to the Hui peoples, whose Persian ancestors came here in ancient times. Stroll by the food stalls of Muslim Street, and visit the Gao Grand Courtyard, an ornate 400-year-old residential house converted into an arts and cultural venue.

Admire the carved building and enjoy a paper cutting class, learning the ancient Chinese folk art of 'jianzhi:' the tradition of cutting intricate paper designs for decoration and good fortune.

Your tour ends near Xian's City Wall, with your guide happily offering tips on further sightseeing or restaurants for dinner (own expense), as well as directions back to your hotel.