Explore one of China's ancient capitals on this 4-hour tour of historic Xi'an, including hotel pick-up. Start with a visit to the fascinating Shaanxi History Museum to learn about the region's rich history and discover Xi'an's former glory as the gateway to the Silk Road. Visit the landmark Big Wild Goose Pagoda, then browse the shops and street food stalls of central Xi'an, stopping to sample local snacks (own expense) or shop for souvenirs.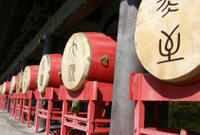 Extend your stay in Xi'an with a half-day tour of the city with a professional guide. As the region's capital and doorway to the Silk Road, Xi'an is one of the richest and most well-protected cities in China. Discover the amazing history of the walled city on this informative tour.

Visit the renowned Shaanxi History Museum and learn about the area's rich culture and intriguing history, from the 2nd-century BC Emperor Qin Shihuang to today. Next, follow your expert guide to the Big Wild Goose Pagoda. Built in the Tang Dynasty, this iconic Buddhist temple is a symbol of the city, and features a seven-story square pyramid standing 210 feet (64 meters) high. Hear fascinating stories about the temple and learn about the important role it plays in the region's culture.

If you have time at the end of the tour, take a stroll around Xi'an's famous pedestrian street and sample local snack foods before enjoying a comfortable drive back to your hotel.