Xian's 14th-century City Wall is a must-see while in the city, and this morning tour lets you make the most of this medieval masterpiece. Watch the grand morning opening ceremony at the wall's beautiful South Gate, and explore the 8.5-mile (14-kilometer) fortifications the easiest way possible: on a 1.5-hour bike ride along the top. Includes entrance fees, bike rental, and hotel pickup on foot.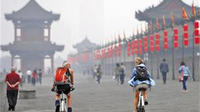 Meet your guide at your downtown Xian hotel, and travel to the City Wall's South Gate by bus, cab, or metro depending on traffic conditions and your hotel's location. Travel tickets are at your own expense.

On arrival, head to South Gate Square, and watch the official Gate Opening Ceremony. Look on as the costumed warriors and dignitaries announce the opening, and take photos of the pageantry and gate — one of the most beautiful of the four in the 14th-century wall.

Afterward, climb to the top of the 40-foot (12-meter) high wall with your guide, and collect your rental bicycle. At about 40 to 46 feet (12 to 14 meters) wide, the wall is easily broad enough for cycling along.

Once you're ready, set off along the stone-paved walkway, pedaling by the magnificent gate towers, watchtowers, and ramparts. On route, absorb the unobstructed views over Xian, gazing at bustling street markets, houses, and skyscrapers.

After 1.5 hours, leave your bike at the bicycle station, and conclude your tour at the South Gate. Your guide will then happily offer tips on further sightseeing or restaurants for lunch (own expense), and provide directions back to your hotel.