Set sail along China's longest river on this 4-day Yangtze River cruise from Chongqing to Yichang. Soak up the scenery as you glide downstream, passing the Qutang, Wuxia and Xiling gorges, and the famous Three Gorges Dam. Hop off along the way to explore the ghost town of Fengdu, admire the Shibaozhai pagoda and enjoy a small-boat cruise down the Shen Nv Stream. This luxury tour includes accommodation, meals and entertainment on-board a 5-star or Super 5-star cruise ship, plus selected shore excursions.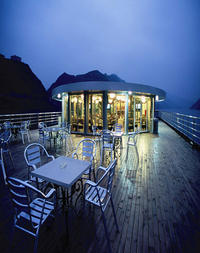 Discover the many wonders of the Yangtze River aboard a five-, or super five-star cruise ship. Your cruise will embark from Chongqing and take you down the Yangtze River to Yichang. Along the way, see the magnificent scenery of the Three Gorges (the Qutang Gorge, Wuxia Gorge and Xiling Gorge), and go on shore excursions to Shibaozhai pagoda (included with Goddess cruises) or Fengdu - China's only ghost town (included with Gold cruise), and the gorgeous Lesser Three Gorges.
One of the best parts of this cruise is the five-step ship lock that you will travel through in order to move downriver. It takes a total of almost three hours to pass through the locks! This one-of-a-kind experience is something you won't want to forget, so make sure your camera is ready to go.
Please see the Itinerary below for a more detailed schedule. Passengers may choose to tour both Shibaozhai pagoda and Fengdu ghost town for an additional fee.
Itinerary
Depending on the tour option you select, you will be on either the super 5-star Gold (daily departure, except Mondays) or the 5-star Goddess 1 and Goddess 2 (Thursday and Sunday departures, respectively). On all ships, meals and evening entertainment are included as listed in the itinerary. Please note that excursions and itinerary is subject to change depending on weather conditions.
Day 1: EmbarkationArrive in Chongqing on your own between 7pm and 8 pm. Board the cruise ship and settle in for the night.
Day 2: Shibaozhai Pagoda or Fengdu Ghost Town (depending on option selected) and Captain's Welcome Banquet (B, L, D)After breakfast, you will be given an orientation regarding the cruise ship and your activities for the next few days.
Goddess Cruises:
Visit the famous Shibaozhai pagoda and marvel at the 9 floors of the red pavilion that sits alongside the hill. Bring along your walking shoes and climb this pavilion to reach the summit of the pagoda. There you will find a 3-story hall known as the Purple Rain Pavilion that is dedicated to the Buddhist deity Manjusri.

Gold Cruise:
Visit Fengdu – China's only ghost town! Walk up the 350 steps to the top of the mountain and spend approximately two hours walking around the town to see the awe-inspiring sculptures and landmarks that depict the underworld and afterlife. Learn about Chinese beliefs of the spirit world as you admire the intricate designs on the town's various structures.

Passengers may choose to participate in both tours for an additional fee. Please consult your tour guide for more details.

End your day by joining the Captain's Welcome Banquet. Sit down for a scrumptious dinner while enjoying evening entertainment put on by the crew. This could be anything from dancing and singing to a fashion or culture show. Join in on the festivities and show off any special talents you have!
Day 3: Lesser Three Gorges or Shen Nv Stream, Three Gorges Five-Step Ship Lock (B, L, D)In the morning, admire Yangtze River's magnificent landscape from the ship as you pass one of the Three Gorges – the Qutang Gorge.
After breakfast, board a smaller boat for a four- to five-hour excursion to the Lesser Three Gorges, where beautiful scenic wonders will unfold before your eyes. The Lesser Three Gorges is comprised of three separate gorges – Dragon-Gate Gorge, Misty Gorge and Emerald Gorge – all of which boast impressive mountains and caves where natural wildlife is abundant.
At night, celebrate your Yangtze River cruise with a farewell dinner and evening entertainment presented by the crew.

After dinner, both cruises allow you to experience the Three Gorges five-step ship lock, which was created to make the uneven river easier to navigate. The lock system is 4 miles (6.5 km) long and takes approximately three hours to pass through. After your ship enters the lock, the doors close on each side and the water is drained in order to lower the boat down to the next level. This process is repeated five times until your ship reaches the other side of the river.
Day 4: Three Gorges Dam and Disembarkation (B)After breakfast, go on a shore excursion to the Three Gorges Dam, which is about 7,575 feet (2,309 meters) long and 331 feet (101 meters) high. Walk to the top with your guide to get panoramic views of the dam, the river and the gorgeous mountain scenery while learning about the dam's significance in improving and preserving the Yangtze River. Your ship will arrive before noon in Yichang, where your cruise ends.
Goddess Cruise facilities:• Air-conditioning system and satellite TV• Sundeck• Fitness center, massage room, sauna and beauty salon• Game room
Gold Cruise facilities:• Air-conditioning system and satellite TV• Gym and outdoor swimming pool• Sundeck• Massage room, spa and beauty salon• Karaoke and theater, live entertainment
• Beauty salon
• Dance club
• Shopping