Capture unforgettable images of Yosemite National Park with a 4-hour photography lesson for beginners or advanced photographers. Bring your camera and learn new techniques from an expert instructor, and watch the afternoon light transform the soaring cliffs, alpine rivers and high meadows of this remarkable landscape. Set up at a series of shooting locations that include iconic views and lesser-known sites as you follow in the footsteps of Ansel Adams, Carlton Watkins and Edward Weston in California's most iconic national park.
Why Our Insiders Chose This Tour
Your guide doesn't just take you to iconic spots in Yosemite National Park, he gives you an in-depth lesson about photography and explains the history behind these iconic shots.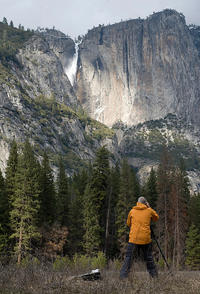 People have been photographing Yosemite since 1859, when Charles Weed took the first salt print photo of Yosemite Falls. Since then, artists like Ansel Adams, Carlton Watkins and Edward Weston have produced stunning, unforgettable photographs of the Yosemite Valley and High Sierra.
Choose a basic or advanced photography lesson depending on your skill level and preferences. Your photography adventure starts at 3:30pm, and your exact trailhead departure point will be confirmed after booking. Follow your guide in your car or on foot through Yosemite National Park to your photo locations. Along with your own camera, be sure to bring along any other equipment you'll need such as a sturdy tripod, lenses, filters, extra memory cards and extra batteries.
Basic Photo Lesson: Icons of Yosemite Valley Whether you're shooting in black and white or color, your photos of Yosemite Valley's most iconic locations will surely be beautiful. Your instructor will discuss basic techniques including depth of field, hyperfocal distance, exposure techniques, metering, the zone system, white balance and composition.
Begin at the Church Bowl parking lot and picnic area, where Ansel Adams shot two famous images, and make your way to Inspiration Point on Wawona Road, offering epic sunset photo opportunities.
Advanced Photo Lesson: Icons of the High Sierra After the winter snows have given way to the warm days of summer, the High Sierra affords a romantic grandeur: granite domes, jagged peaks, wildflower meadows, sparkling lakes and wildlife all around.
Begin at Olmsted Point, a favorite site of many photographers, and travel to Tenaya Lake to explore its granite shores, erratic boulders, stunted trees and majestic reflections.
Afterwards, continue to Tuolumne Meadows, where several different stops will yield views of the meadows, Mt Dana, the Cathedral Range, the Tuolumne River, Lembert Dome and more. If conditions permit, evening alpen glow will blanket the Sierra crest and provide you with a vibrant, luminous scene even after the sun has dropped below the horizon.
Perfect for more experienced photographers, this lesson covers advanced techniques for photographing wildlife and macro subjects. Topics covered include depth of field, hyperfocal distance, exposure techniques, metering, the zone system, white balance and composition.