Earn panoramic views of Yosemite Valley from Half Dome's summit on a full-day guided hike up the National Park's most iconic landmark. This strenuous trip is a rite of passage for hikers from around the world, a physical and mental challenge with breathtaking rewards. Walk alongside your guide as you trace the legendary rock path and cable route, learn the natural and geologic history of the Sierra Mountains and finish the epic adventure with sore muscles, stunning photos and a lifetime place in the Half Dome Summit Club.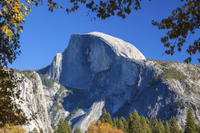 Early in the morning, meet your expert guide at a trail head that is confirmed at the time of booking. Here, you receive a safety briefing and review the day's schedule. Your journey to Half Dome is carefully organized so that you set a good pace on this strenuous 17-mile (27-km) trip.

Once you have received your orientation, lace up your hiking boots and hit the trail. As you hike, you'll learn about the geology and natural history of Half Dome, Yosemite, and the Sierra Nevada mountains.

Along the way, soak up amazing views of Vernal Falls, Nevada Falls, Liberty Cap, Half Dome and the High Sierra as the trail rises 4,800 feet (1460m) from Yosemite Valley to the top of Half Dome.

The final section of the Half Dome ascent requires you to scale the mountainside for 400 feet (125m) using cables fastened into the steep rock face. Your guide shows you how to use your provided equipment before you climb the cable route. This part of the hike requires a permit that you must acquire before you reach Yosemite National Park. See Additional Info for instructions on how to obtain your permit, which is included in the price of this guided hike. You also have the option to sit out this final section; there is plenty of amazing scenery to enjoy, and your day will be amazing and challenging whether you reach the summit or not!

Upon completion of this epic adventure, you'll be rewarded with the satisfaction of knowing you climbed Half Dome and learned new mountaineering skills. Return to the trail head to end your day, where you'll receive a 'Half Dome Summit Club' patch to commemorate your achievement.

Please note: Hikers need to be in excellent physical condition and well-prepared for this challenging 12-hour trek. It's important that you are in shape prior to this trek, and you can consult your guide after booking on how to properly train. You must also be able to carry your own daypack (not included). It should be equipped with food, water, layered clothing, and a safety kit. Other necessities include a hat, sunblock and a flashlight. Detailed information on how to pack is provided on the voucher.