Combine the natural splendor of Mt Rigi with the soothing serenity of Kaltbad Mineral Baths and Spa on an enriching 2-day tour from Zurich. Board a luxury coach and travel through the scenic Swiss countryside to Mount Rigi, one of the country's most magnificent natural landmarks. Take an aerial cable car ride to the mountain's summit to absorb panoramic Alpine vistas, and then submerge yourself in the thermal waters of hot springs for a truly rejuvenating experience. Explore the striking city of Lucerne and enjoy a tranquil river cruise. Luxuriate in comfortable overnight accommodation and enjoy two meals on this tour.
Why Our Insiders Chose This Tour
Such a lovely way to unwind! Relax in mineral baths, sleep in fresh Alpine air and take all the photos you want! On the second day, you get free time to see the sights in Lucerne and do some shopping.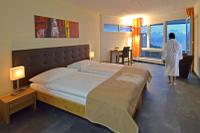 Satisfy an appetite for both adventure and indulgence on an exhilarating 2-day tour of Mt Rigi from Zurich. Ascend to the lofty peak of Mt Rigi on an aerial cable car; ride Europe's first cogwheel railway down the steep mountainside; hike to your heart's content on bountiful nature trails; and soothe aching muscles in the steamy sublimity of Kaltbad Mineral Baths and Spa.
Included on the tour is the following; one nights luxurious accommodation in Hotel Rigi Kaltbad; breakfast and dinner; round-trip transportation by luxury coach; and a professional guide.
Itinerary
Day 1: Zurich – Weggis – Mt Rigi (D)
Meet your guide in central Zurich and begin your journey to Mt Rigi with a scenic coach drive through the beautiful countryside and along the Lake of the Four Cantons (the official name of Lake Lucerne) to Weggis! Here, your guide will leave you to board the aerial cable car independently for the ride up to Rigi-Kaltbad (you'll receive all tickets, instructions and documents needed for the rest of the day). Get off the cable car at Rigi-Kaltbad and switch to Europe's first cogwheel railway to complete the trip up to Rigi-Kulm, at an elevation of 6,000 feet (1,800 meters).

When you arrive at the top, be wowed by the spectacular views over the Alps and several Swiss mountain lakes. The views are simply incredible, and you'll have approximately three to four hours of free time here to soak it all in. During your free time, go for a hike on one of the well-maintained trails or rent a sled (own expense) for a little wintertime fun. Have lunch (own expense) at the Rigi-Kulm restaurant, or simply relax, enjoying the majestic alpine atmosphere and filling up your camera with one great shot after another.

In the afternoon, take the cogwheel train back down to Rigi-Kaltbad to check in to your hotel – the three-star Hotel Rigi Kaltbad – and take advantage of your included access to the Rigi Kaltbad Mineral Baths & Spa. Designed by well-known Swiss architect Mario Botta, the spa offers mineral-rich indoor and outdoor pools with relaxing temperatures of 95 degrees F (35 C) and fabulous mountain vistas. Additional spa features include a whirlpool, herbal sauna, steam bath and crystal spa bath, all of which you have access to until the 7pm closing time.

Round off your day at the hotel's SunSet restaurant, where you'll enjoy your four-course a la carte dinner of seasonal, regional specialties before retiring to your tastefully furnished hotel room.

Day 2: Mt Rigi – Lucerne – Zurich (B)
Begin your day with a rich breakfast buffet and then return to the Mineral Baths & Spa, if you wish, for a late morning dip. Around noon, take the cogwheel train down to Vitznau, where you'll board the boat for your one-hour, ultra-scenic cruise on Lake Lucerne to the town of the same name.

When you reach Lucerne, you have free time to explore on your own and have lunch (own expense). See the city's top sights like Chapel Bridge, Old Town, the town hall and the Jesuit Church. Maybe visit the Swiss Museum of Transport (one of the biggest museums in Switzerland) or the Rosengart Museum, home to works by Picasso and Paul Klee (any entrance fees at own expense). Or just stroll around town, admiring the medieval streets and popping into local shops.

At a pre-arranged time, meet your guide and board the coach for the ride back to Zurich.