The Noosa Everglades are the ideal destination for those looking for an experience in nature. Hundreds of species of birds circle above the diverse foliage as lizards, snakes, and kangaroos enjoy the ground. The flora of the Everglades is completely unique, with big twisting grasses, large swamp banksias, hundreds of different flower species, and of course, the iconic vines and trees that make the forest so dense.
The best way to see the Everglades is by boat tour up the Noosa River. There are many companies to choose from, and rest assured that all of them are "eco-certified", and are constantly conscious of the impact that they are having on the natural beauty of the surrounds.
You can also do a personal canoe tour, but this is only advisable if you have canoeing experience and a knowledgeable guide.
Practical Info
Situated within the huge Cooloola National Park, the Noosa Everglades run along the Noosa River and are located about 40km (25mi) from Noosa. The best way to access them is through one of the certified boat (or "boat bus") tours which visit many lakes and estuaries in the area. Tours can be taken for either a 1/2 day or a 3/4 day cruise, and some companies offer lunch specials.
Be sure to listen carefully to the safety and cleanliness policies put forth by the tour - restrictions in the Everglades are very strict, and the mixed, unpredictable wildlife is not to be taken lightly, especially in certain areas of the water.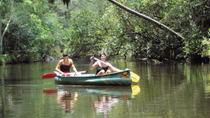 6 Reviews
Immerse yourself in the beauty of the Noosa Everglades on a day trip by canoe and motor boat on the Noosa River. Motor along Lake Cooroibah and Lake Cootharaba ... Read more
Location: Noosa, Australia
Duration: 7 hours (approx.)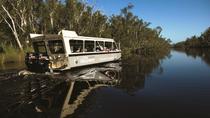 12 Reviews
Enjoy cruising on Lake Cooroibah and Lake Cootharaba. Photograph the reflections of the Noosa Everglades, or have a swim in the dark tanin waters. Appreciate ... Read more
Location: Noosa, Australia
Duration: 4 hours 30 minutes (approx.)